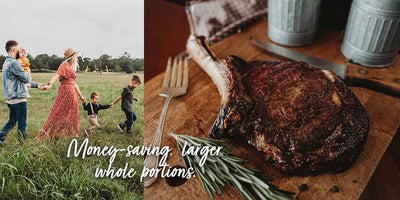 Primals
Large, whole primal cuts are a great way to serve a crowd, save some money, or stock the freezer. Cut your own NY Strips, Ribeyes, Sirloin, Prime Rib, or Filet Mignon.
About US Wellness Meats
US Wellness Meats was founded in 2000 in Monticello, Missouri (pop. 98) by visionary farmers, who saw that big-business cattle-raising practices were taking a toll on our animals and our health. By returning to rotational grazing practices that are good for the planet and good for our cattle, we led the way in introducing a new generation to the unmatched taste, tenderness, and healthiness of grass-fed beef.
Primals
Butcher for a day! These full size beef primals will save you money and afford the opportunity to choose thickness of cuts. Our primals are 100% grass-fed and grass-finished beef sourced from sustainable family farms dedicated to offering premium, nutrient-rich foods.
Read more