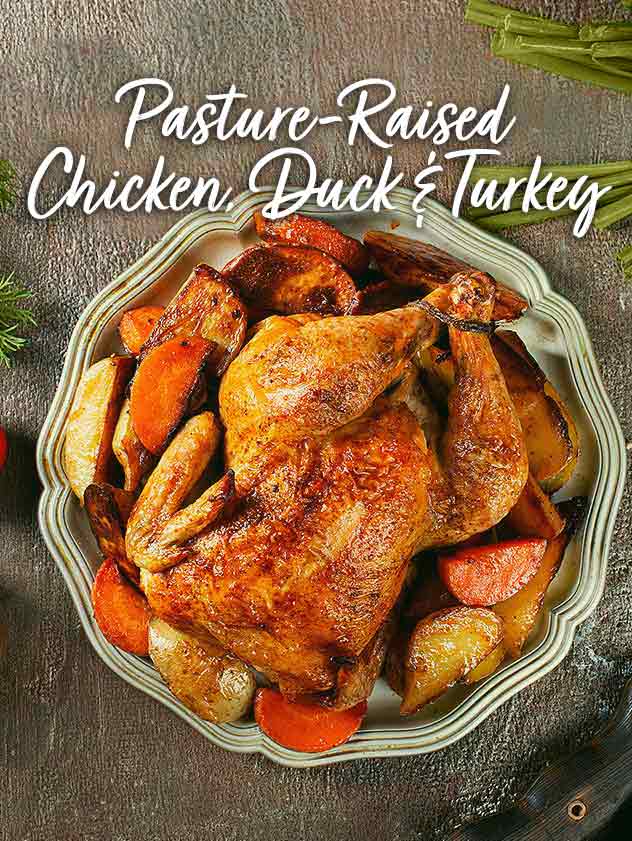 Poultry
Our pasture-raised chicken, duck, and turkey is raised on sustainable farms with plenty of room to peck and scratch up insects, worms, grasses and seeds, precisely the way nature intended.
About US Wellness Meats
US Wellness Meats was founded in 2000 in Monticello, Missouri (pop. 98) by visionary farmers, who saw that big-business cattle-raising practices were taking a toll on our animals and our health. By returning to rotational grazing practices that are good for the planet and good for our cattle, we led the way in introducing a new generation to the unmatched taste, tenderness, and healthiness of grass-fed beef.
Poultry
Better pastures. Better birds. Better taste. Our Pasture-Raised poultry are raised on family farms based right here in the United States, where they roam in open pastures pecking insects, worms, grasses, seeds, and whatever else nature intended. Nothing about their lives is rushed or forced, so our chickens, turkeys, and ducks all mature at their natural pace — just as it should be.
We never use antibiotics or added growth hormones and only use natural, non-GMO supplemental grains. We never compromise on that, and we are very proud of our sustainable partnerships with USA poultry farmers. As soon as you take your first bite, you will understand exactly why we go through all of the trouble it takes to raise poultry and duck as naturally as possible. Enjoy the incredible flavor of our pastured chicken, turkey, and duck, and don't forget to try our soy-free options as well. Happy cooking!
Read more