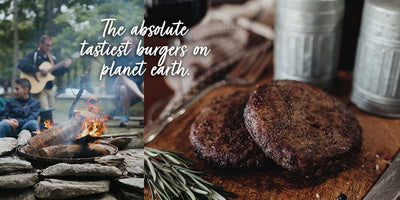 Ground Beef, Burgers & Sliders
Sometimes all you need to make the world a better place is a burger. In that brief moment when it's lifted off the grill, the world suddenly seems like it's in perfect balance.
About US Wellness Meats
US Wellness Meats was founded in 2000 in Monticello, Missouri (pop. 98) by visionary farmers, who saw that big-business cattle-raising practices were taking a toll on our animals and our health. By returning to rotational grazing practices that are good for the planet and good for our cattle, we led the way in introducing a new generation to the unmatched taste, tenderness, and healthiness of grass-fed beef.
Ground Beef, Burgers & Sliders
Browse our selection of grass-fed ground beef, from 75% to 90% lean! We also have 55% lean beef ground with beef heart for those on a ketogenic diet. Our beef is all natural, sustainably raised, 100% grass-fed and grass-finished. Our grass-fed cattle have the finest salad bar diet available making these delicious and nutritious. Patties, sliders and more, all right here; you won't find a better burger anywhere!
Read more